By Nobo McManus
Larry and His Flask hail from Oregon and have one of the most unique sounds ripping through the Northwest music scene right now. Their fourth full-length album All That We Know does anything but disappoint and really shows how far they've come from busking on the street. All fourteen tracks sound different than the one before it, most likely because of how many instruments this six-piece group plays, a total of ten instruments, along with each member lending their voice to the songs.
Some tracks that stick out are the short but sweet like "I'll Be Gone", a strong a cappella that quickly becomes a cacophony of strings over fast paced percussion, all lasting under two minutes. The band takes a less foot stomping, more seat swaying tone on "Slow It Down", a vocal, feel-good ballad.
Larry and His Flask, along with local label Silver Sprocket, decided to get All That We Know pressed in three different colored vinyl: green, gold, and blue. So make sure you get your hands on these limited edition records quick!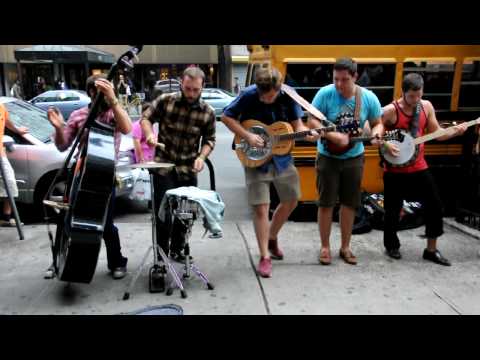 (Larry & His Flask taking it to the streets in New York)