By David Brehmer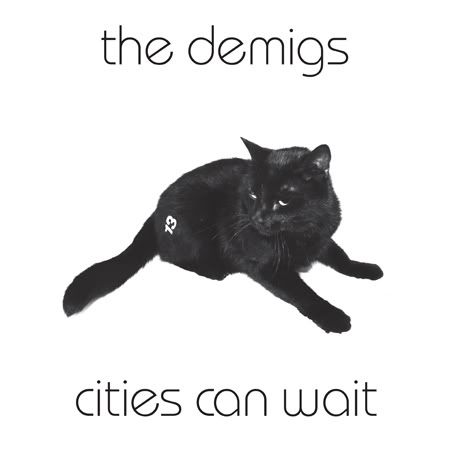 STANDOUT TRACKS: "Canada," "Black Valley Fight," "Minx"
Recommended If You Like: Catchy pop with a post-punk twist
With their sophomore album Cities Can Wait, out April 5th, North Texas outfit The Demigs have created a sound clearly born of elder statesmen, but possessing a unique chemistry and energy all its own.
The album kicks off at once louder and softer that one expects, the initial cleanly strummed chords of "Red Palomino" snap quickly to a bright, forceful noise of disortion and reverb of mid-'90s proportions, only to fall away again to make room for Demiligio's gentle, polished vocal. The album rides the loudquietloud wave throughout, building layers of fuzz on a solid, time-honored pop foundation. Filled with catchy hooks and quirky lyrics, the band strides confidently along the line between Brit Pop sheen and post-punk noise throughout the album's first half.
With "Black Valley Fight," an editorial on the nature of piety and sobriety, the tempo and mood start to shift. The pulsing Southern boogie lick of the verse erupts into an explosive buzzsaw chorus. This is the first appearance of out and out aggression, and the sudden range grabs the listener immediately. From that point on genres blend more freely, and the emotional arc of the album comes into focus.
Starting side B, the tender, breezy "Both Hands Out" features steel guitar, banjo, fiddle and a bouncing, Country-Western bass line backing up a tightly constructed, medium-paced pop gem of a vocal line. Immediately after comes "Minx," where minor-key fuzz introduces a decidedly darker tone, filled with a lush mix of piano and wailing, reverb-laden leads that owes more to classic shoegaze than the bright rock of earlier tracks. "Chambers Full of Tracers" follows, a dark, quiet, fingerpicking sketch that is pure country-folk. The lyrics and tone slide slowly closer to melancholy throughout the second side, but the energy never lags.
Recorded and produced by the band, Cities Can Wait was created over a period of four years, and it shows. The lush production is dense, but never overcrowded. The layers of instrumentation are subtle and complimentary, experimenting with everything from phased out synthesizers to glockenspiel to the aforementioned banjo, and the band never loses sight of its strength amongst the noise. Their keen ability to craft tight, catchy pop songs anchors the album throughout, from the bright, open chords of the opening tracks, to the more melancholy second half. The Demigs succeed not by creating something wholly new, but by taking what is long familiar and making it sound fresh.