A DIY vinyl record project with Nissa Nicole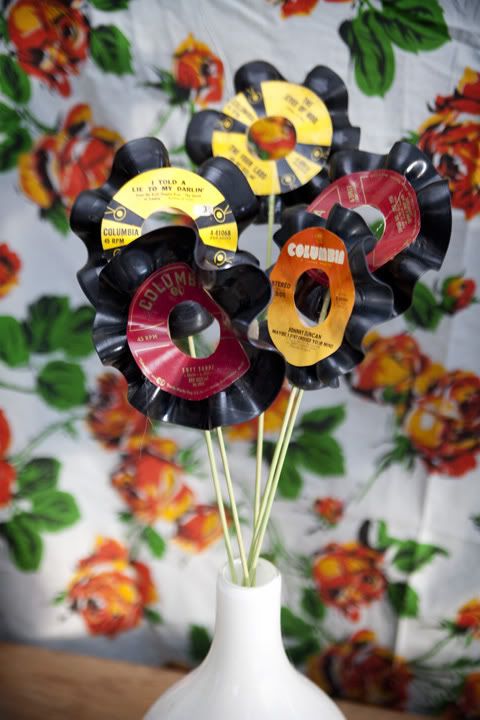 It's true. I'm a girly girl, and I have, for many years, enjoyed a vase full of extremely pretty yet extremely fake flowers in my living room. While working on a different vinyl DIY project, I realized something awesome – 45s, when heated, become incredibly unique and totally awesome fake flowers that even my vinyl crazy husband won't protest! So, saddle up and grab your supplies – I'm going to show you how to make a bouquet of sorry singles and b-sides that will intrigue your house guests! The best part? It's the easiest vinyl project you'll find!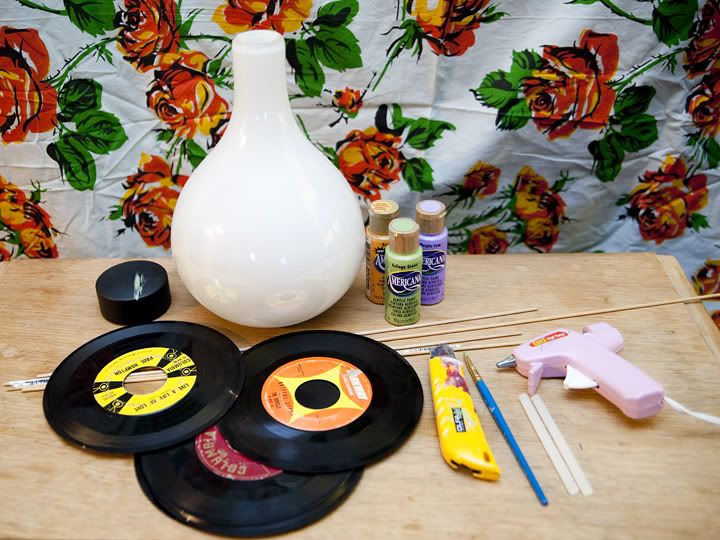 Here's what you'll need:
– A number of 45 records (I used 6)
– A cookie sheet
– Thin wood dowels ($.29 at Joann Fabrics or Michaels)
– Hot glue gun or strong wood glue
– Small "wedge" – anything to use to prop the dowels on while you paint
– Green acrylic paint ($.99 at Joann Fabrics or Michaels)
– Small paintbrush
– Two oven mitts
– Oven
– A vase to display the final product
STEP ONE:
Preheat your oven to 200 degrees. Lay out your cookie sheet.
STEP TWO:
This part is really easy. Once the oven has been preheated, just set the 45s on the cookie sheet comfortably. None should touch the other. You many need to do two or three cycles of record warming, depending on how large your cookie sheet is. Set the timer for 10 minutes.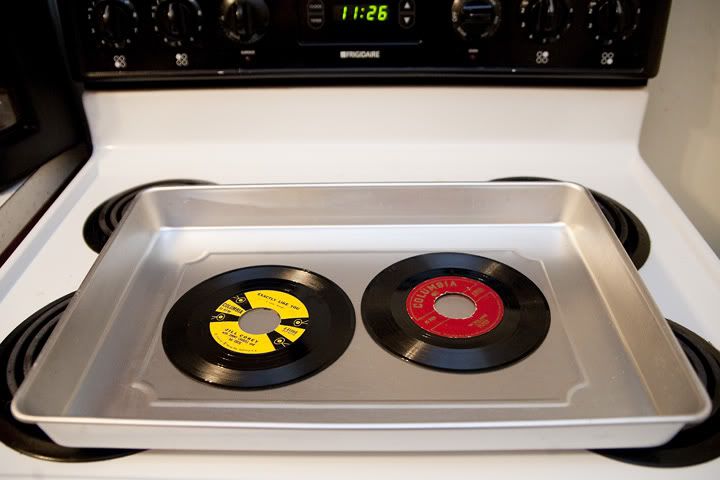 STEP THREE:
While the 45s are heating, it's the perfect time to paint your "stems." Grab your wood dowels and trim them to size. You'll want to make some of the flowers longer, and some shorter for dimension within your bouquet.
Pour your green paint and lean the dowel on the throwaway wedge you included with your supplies. The wedge will allow you to paint the dowel all the way around without it slipping from your hands. Acrylic paint dries fast; give it a coat or two and then a moment to try before moving on to the next step.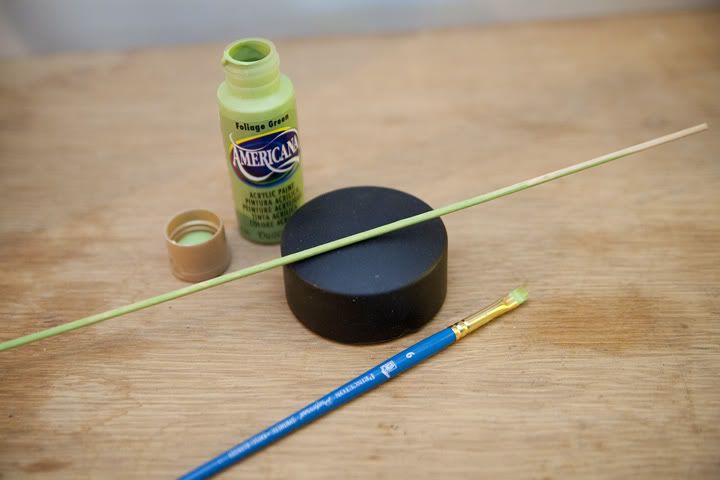 STEP 4:
Ten minutes in the oven is all these babies need. Once the timer goes off, pull them out carefully. You'll find something wonderful – while warming, the 45s will have bunched up and waved around all on their very own! This DIY project requires no moulding of the hot vinyl. It should be a perfect flower right out of the oven.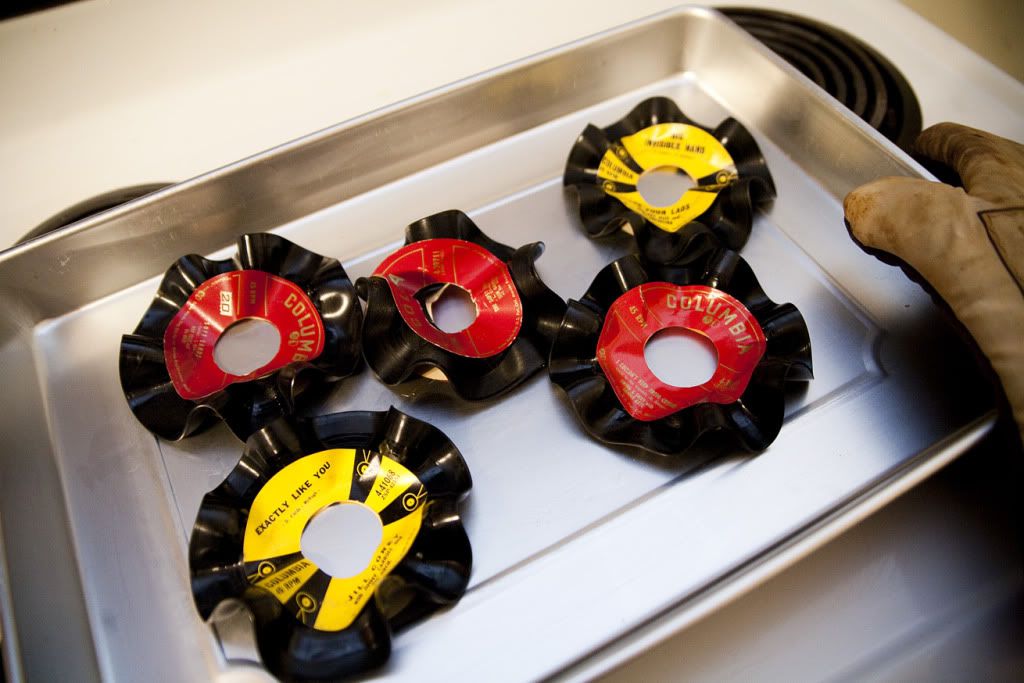 STEP 5:
Set the 45s aside to let them cool off before constructing them to your newly painted wood dowels. While they're drying, find their best side – the one that will point forward when the dowels are attached. Find a good place to insert the dowel alongside a wave and underneath the label. I make a light mark on mine so that I don't have to search when I'm gluing in the next step.
STEP 6:
Start up your glue guns! Hot glue is the best, most useful type of glue there is. No, seriously. If you don't have a glue gun, you need to get one. I paid $2.50 for my beautiful, pink mini gun at Joann Fabrics, and another $1 for a pack of glue sticks. Best $3.50 I ever spent. It's hot, it sticks, and it dries almost instantly congealing anything underneath.
For this project you can get away with wood glue as your binding agent, but I don't trust it. You'll want to give it extra time to dry.
So, take the glue of your choice and slather it on the end of your wood dowel. Find a good spot on one of the record's ridges to insert the dowel UNDER the record's label. Slide the dowel until it reaches the edge of the record, and then press down to secure it. I find that generally, there's still a little space between the dowel and the record's surface. With a hot gun, you can just fill the gap with extra glue, making sure to cover the dowel and the gap so that they will be connected when the glue dries. Repeat for each separate flower.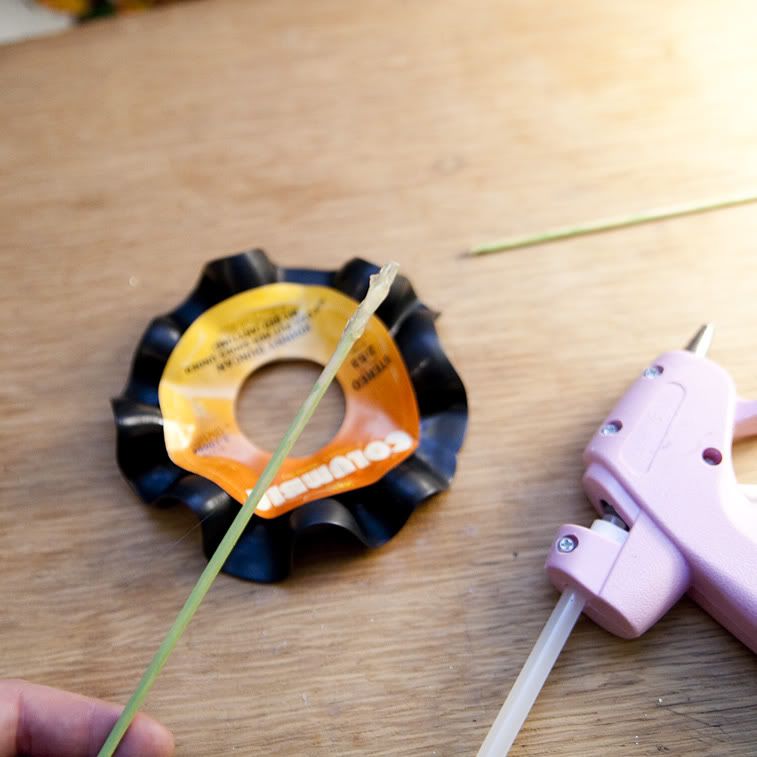 STEP 7:
You're done! Let those flowers dry face down for an ample amount of time before you arrange them and check for any places that might need another layer of glue.
Once you're sure that they're dry and secure, grab the perfect vase or container and display your handiwork!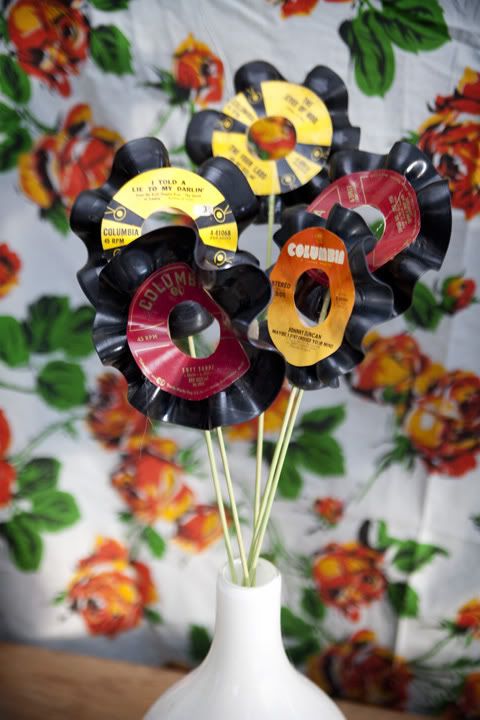 Just a Suggestion:
As you can see, I chose not to paint the 45s. I thought about while planning the project, but decided to instead go with vinyl already displaying bright labels for color. Removing the labels and painting the naked records is a way you could modify this project. Give it a try!